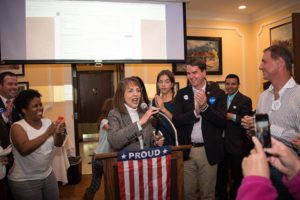 Jeanette Rishell celebrates her election as mayor of Manassas Park with (left-to-right) Donald Shuemaker, State Senator Jeremy McPike, Hector Cendejas, and Mark Wolfe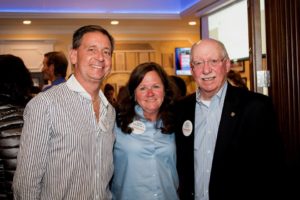 Mark Wolfe, Pam Sebesky, and Rex Parr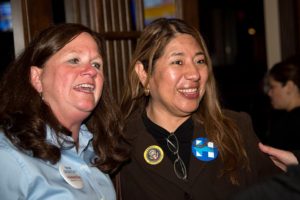 Pam Sebesky and Miriam Paula Machado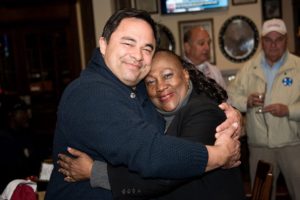 Manassas City Council member Ken Elston hugs Manassas City Treasurer-elect Patricia Richie Folks
While the nationwide election results were dismal for Democrats, Manassas City and Manassas Park voters clearly supported practically all the Democratic candidates and issues on their November 8, 2016 election ballots.
In Manassas City, Hillary Clinton out polled Donald Trump 54.66% to 38.63%, challenger and first-time candidate LuAnn Bennett (D) bested incumbent Republican Congresswoman Barbara Comstock 54.25% to 45.30%, and the anti-union "right-to-work" state constitutional amendment was opposed 53.49% to 46.51%.  Among the citywide races, Democrat Patricia Richie-Folks won her special election for Manassas City Treasurer, defeating Republican Russell Harrison by 51.17% to 48.31%, while Mark Wolfe, Pam Sebesky, and Rex Parr–our Democratic nominees for the three available seats on the Manassas City Council–received the first, second, and fifth highest vote totals among the seven candidates listed on the ballot.  In short, three of our four local Manassas candidates (Wolfe, Sebesky, and Richie-Folks) were elected to office!   The full election results from Manassas City are posted here and here.
Manassas Park voters supported Democrats even more strongly.  Hillary Clinton received 61.24% of vote for president, while LuAnn Bennett received 59.69% of the vote for member of Congress, and the "right-to-work" constitutional amendment was opposed by 55.95%.  In the race for Manassas Park Mayor, City Council member Jeanette Rishell (D) crushed incumbent Mayor Frank Jones by 61.86% to 37.14%.  Meanwhile, our endorsed City Council candidate Donald Shuemaker–the only City Council candidate who qualified to be listed on the ballot–was elected with 3,068 votes (40.37% of all votes cast for the three available City Council seats).  Finally, among the many write-in candidates for the City Council, our Democratic endorsees Hector Cendejas and Miriam Machado placed first and second, with 1,350 votes (17.77%) and 559 votes (7.36%), respectively.  The election results to date from Manassas Park are posted here.
Congratulations to all our local 2016 candidates–Jeanette Rishell, Donald Shuemaker, Hector Cendejas, Miriam Machado, Rex Parr, Pam Sebesky, Mark Wolfe, and Patricia Richie-Folks–for their well-executed campaigns for public office.  As we build a bigger, stronger, and more effective local organization, MMPCDC looks forward to continued success at the polls in the years ahead.