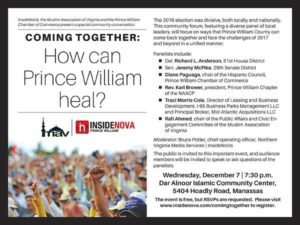 Coming Together: How can Prince William heal?
A special community conversation presented by InsideNoVa, the Muslim Association of Virginia, and the Prince William Chamber of Commerce.
Wednesday, December 7, 2016, 7:30 PM – 9:30 PM
Dar Alnoor Islamic Community Center, 5404 Hoadly Road, Manassas, VA 20112
The 2016 election was divisive, both locally and nationally. This community forum featuring a diverse panel of community leaders will focus on ways that Prince William County can come back together and face the challenges of 2017 and beyond in a unified manner.
Panelists include:
– Del. Richard L. Anderson, 51st House District
– Sen. Jeremy McPike, 29th Senate District
– Diane Paguaga, chair of the Hispanic Council, Prince William Chamber of Commerce
– Rev. Karl Brower, president, Prince William Chapter of the NAACP
– Traci Morris-Cole, Director of Leasing and Business Development, I-95 Business Parks Management LLC and Principal Broker, Mid-Atlantic Acquisitions LLC (representing the Prince William Chamber of Commerce)
– Rafi Ahmed, chairman of the Public Affairs and Civic Engagement Committee, Muslim Association of Virginia
Moderator: Bruce Potter, chief operating officer, Northern Virginia Media Services/InsideNoVa
The public is invited to this important (and free) event, and audience members will be invited to speak or ask questions of the panelists. Please register to attend.
Registration link: https://www.eventbrite.com/e/coming-together-how-can-prince-william-heal-tickets-29410427380#tickets