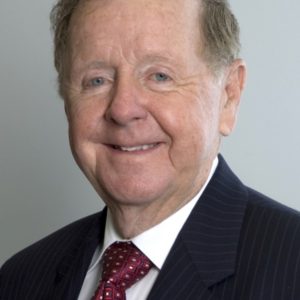 We are sad to report that Charles J (Chuck) Colgan, our legendary former Virginia State Senator (D, SD-29), passed away on January 3 at age 90.   As the longest-serving state senator in Virginia history (1976-2015), rising to become chairman of the powerful Senate Finance Committee and president pro tempore of the Senate, Chuck Colgan was instrumental in funding many critical education and transportation investments in Prince William County and greater Manassas that have shaped our community's development and vitality.
A World War II veteran, aviator, and airplane mechanic, Chuck also founded and operated two significant aviation businesses at Manassas Airport, Colgan Airways (1965-1985) and Colgan Air (1990-2007).  Chuck's soft-spoken modesty and his cordial and pragmatic problem-solving nature made him both effective and universally admired.
As announced in Senator Colgan's obituary, visitation will occur on Monday, January 9, 2017 from 1-4 pm and 6-9 pm at All Saints Catholic Church 9300 Stonewall Road, Manassas, where Senator Colgan served as an usher for 50 years. Mass of Christian Burial will be celebrated at All Saints Catholic Church on Tuesday, January 10, 2017 at 10:30 AM, followed by interment in Stonewall Memory Gardens. Arrangements by Pierce Funeral Home in Manassas.
Read more about Senator Colgan's remarkable legacy at InsideNoVa.com.
Update: read a news report of the funeral at InsideNoVa.com.