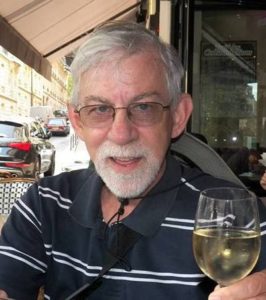 Paul Reid, a stalwart member of our Committee and a good friend to many of us, passed away on Thursday, February 23, following a bout with cancer.  He died at home in his wife's arms.
Paul was born April 13, 1951 in Brooklyn, New York, the son of the late William F. and Marcella M. Reid.  He retired from the Central Intelligence Agency, then worked for General Dynamics and Geospatial Solution Inc., finally retiring in 2015.
After leaving federal service, Paul became an active volunteer for the Manassas & Manassas Park Cities Democratic Committee.
EJ Scott, MMPCDC's Immediate Past Chair, summarizes Paul's service to our Democratic community as follows:
Paul Reid was the true embodiment of Democratic values. He believed in equality and justice and was dedicated to making this country live up to its ideals. He was a quiet man, except when talking about the craziness exhibited by the other side. No one worked harder and longer than Paul. He knocked doors, made phone calls, worked the polls and was always the first one onsite to help set up for events. He was given MMPCDC's second Blue Victory Chair's Award for his service and commitment to getting Democrats elected.
Paul spoke fluent Spanish and loved to dance the salsa with his wife Betsy. At our festival booths, it was reassuring to have him there to converse with our Spanish-speaking visitors. 
After the House of Delegate Districts were redrawn, and we could not find anyone to run against Jackson Miller, Paul even agreed to be our write-in candidate for the 50th District Delegate. We called and handed out write-in ballots, and he received a good vote showing.
Paul was generous. He often offered to assist with financing events, and he sponsored tickets to our events, so the less fortunate could attend. He gave to Democratic candidates and then continued to give his time and energy to getting them elected.
Paul Reid was a participant. Paul was a soldier in the fight to turn Virginia Blue. And recent past elections have shown the rewards of that battle.
When his widow was asked what can we do, she responded simply, "Take back Congress."  Nothing would please him more.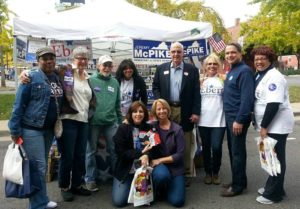 Paul also volunteered as the Vice President of in-line hockey for the Prince William Hockey Club from 1998 to 2006, where he also coached two of his sons, Andrew and John.  In 2006, he purchased a second home in Capon Bridge, West Virginia, where he spent the weekends experimenting with home brewing recipes, reading, kayaking, fishing, biking.
Survivors include his wife of 42 years, Elizabeth F. (Betsy) Reid, three sons, Peter Reid of Falls Church, VA, Andrew Reid of Manassas, VA, and John Reid of Austin, Texas; one granddaughter, Mia A. Reid, and one grandson Luke M. Reid; daughter in-laws Alix Reid and Elizabeth Gonzales.
Viewings will be held at Peirce Funeral Home in Manassas on Sunday Feb. 26 between 6pm and 8pm, and Monday Feb. 27 between 7pm to 9pm.  A funeral mass will be held at All Saints Catholic Church, Manassas on Tuesday Feb. 28 at 10 am.
In lieu of flowers please donate to Relay for Life cancer.org https://www.cancer.org/involved/fundraise/relay-for-life.html click donate then enter Team Baldwin.
Condolences may be sent to: www.piercefh.com