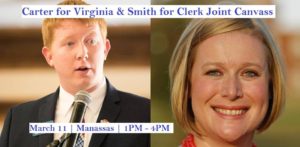 Join our joint canvass for Lee Carter for the House of Delegates (HD-50) and Jackie Smith for Clerk of the Court, this Saturday, March 11 in Manassas.
The canvass will launch out of the Carter's home at 9612 Fairview Avenue, Manassas VA 20110 from 1 PM to 4 PM.  Street parking on Fairview Ave. is available. Light refreshments will be served.
We hope to have at least 30 to 50 volunteers join us to circulate ballot petitions for Lee and literature for Jackie, to help her win a very important special election for the Clerk of Court on April 18.
We'll be working our way through the Baldwin precinct. If you know of any notaries in the area, please ask them to join us!
RSVP via Facebook, by email at [email protected], or by phone at 571-358-7999, so we'll make enough walk packets.