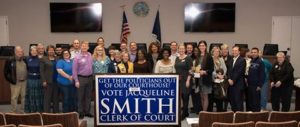 Here are some coming events in support of Jacqueline Smith's campaign for Clerk of the Prince William County Circuit Court.  Please spread word of these events far and wide, and participate as you can.
SATURDAY, MARCH 25th CANVASS: Shifts starting at 11:30 am and 3 pm, launching from Minnieville Elementary School,13639 Greenwood Drive, Woodbridge VA 22193.  Leaders of the Democratic Party of Virginia and local committee chairs from all over the state will be traveling to Prince William County to participate in this "Day of Action".
SUNDAY, MARCH 26th CANVASS: Shifts starting at 1 pm, launching from Woodbridge Senior High School, 3001 Old Bridge Rd, Woodbridge, VA 22191.
WEDNESDAY (MARCH 29) OFFICE PHONE BANKS: Join us from 5 pm – 8 pm Wednesdays at our campaign office at 2525 Pointe Center Court, Dumfries, VA, 22026.
THURSDAY, MARCH 30 FUNDRAISER, 7-9 PM: Join State Senator McPike, State Senator Surovell and others at the offices of Raheel Sheikh, 4008 Genesee Place, Suite 101, Woodbridge, VA 22192.  Full details are here: http://www.manassascitydemocrats.org/?p=3109 ].
VIRTUAL PHONE BANKS, MONDAY – SUNDAY, 11 AM – 8 PM:  Call Democratic voters with your computer from the comfort of your home. Our virtual phone bank is up and running 7 days a week.  If you have even a free half hour, every call helps spread the message. Click here to access our virtual phone bank
For information on any and all events, call David Marshall at 267-337-0651 or email [email protected].
Also, please tell all of your fellow Democrats here in Manassas, Manassas Park, and Prince William County that we need their vote on April 18th.  Alternatively, in-person absentee voting, during weekday business hours, at your locality's voter registrar's office(s) has already begin.
The resistance starts here.
David A. Marshall
Campaign Manager
Smith for Clerk