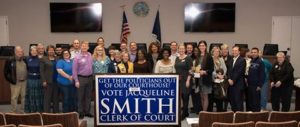 With the April 18th special election just one week away, Jacqueline Smith's six-week election campaign to become the next Clerk of the Prince William County Circuit Court is entering its get-out-the-vote (GOTV) and poll-greeting phase.
The key Smith for Clerk campaign events in the coming week are listed below.  Please spread word of these events far and wide, and participate as you can.  To contact the Smith for Clerk campaign, call David Marshall at 267-337-0651 or email [email protected].
* * *
WEDNESDAY, APRIL 12, 6 AM- 8 AM, MORNING LITERATURE BLITZ at the Broad Run, Old Town Manassas, and Manassas Park VRE stations, coordinated by Indivisible NoVA West.  Help hand out Jackie Smith's literature and promote the April 18th Special Election at the following 3 locations.
Broad Run VRE Station, 10637 Piper Lane, Bristow, VA 20136
Old Town Manassas VRE Station, 9451 West Street, Manassas, VA 20110
Manassas Park VRE Station, 9300 Manassas Dr., Manassas, VA 20111
If you can help, even for just part of this time, please RSVP at the following link and indicate which location you plan to attend: https://actionnetwork.org/events/jackie-smith-literature-blitz-at-manassas-area-vre-stations?source=direct_link&
* * *
WEDNESDAY, APRIL 12 OFFICE PHONE BANK: Call likely Democratic voters from 5 pm – 8 pm this Wednesday at the Smith for Clerk Campaign office, 2525 Pointe Center Court, Dumfries, VA, 22026.
* * *
GET-OUT-THE-VOTE (GOTV) CANVASSES TO COMMITTED DEMOCRATIC VOTERS, SATURDAY, APRIL 15 THROUGH TUESDAY, APRIL 18:  MMPCDC will run all of the Smith for Clerk GOTV voter canvasses within Manassas and Manassas Park from 9002 Peabody St, Manassas VA 20110.   MMPCDC is responsible for 17 turfs: 14 within the City of Manassas and 3 in Manassas Park.  We plan to cover all 17 turfs at least once on Saturday, April 15 and then return at least once more to try to reach all the voters who were unavailable earlier.  The following canvass shifts are scheduled:
Saturday, April 15:  10 am – 1 pm; 2 pm – 5 pm, and 6 pm – 8 pm
Sunday, April 16:  follow-up canvasses between noon and 5 pm may be run at your option, but please tread lightly since it's Easter Sunday.
Monday, April 17: 10:30 am – 1:30 pm, 2:30 pm – 5:30 pm, and 6 pm – 8:30 pm
Tuesday, April 18 (election day): 9 am – 12 pm,12:30 pm – 3:30 pm, 4pm – 7pm
To sign up for a GOTV voter canvass, please contact MMPCDC at [email protected] or 571-358-9893.
* * *
VIRTUAL PHONE BANKS, MONDAY – SUNDAY, 11 AM – 8 PM:  Call Democratic voters with your computer from the comfort of your home. Our virtual phone bank is up and running 7 days a week.  If you have even a free half hour, every call helps spread the message. Click here to access our virtual phone bank
* * *
POLL GREETING DURING SATURDAY ABSENTEE VOTING ON APRIL 15 AND AT LOCAL POLLING PLACES ON TUESDAY, APRIL 18:  MMPCDC volunteers will greet voters arriving for in-person absentee voting at Manassas Town Hall and Manassas Park City Hall on Saturday, April 15, from 9:00 am to 5:00 pm.  Our volunteers will also greet arriving voters on Tuesday, April 18, from 6:00 am to 7:00 pm, at all nine polling places in Manassas and Manassas Park.  To sign up for one or more shifts greeting voters at the polls, please contact us at [email protected] or 571-358-9893.
* * *
Last but not least, please tell all of your fellow Democrats here in Manassas, Manassas Park, and Prince William County that we need their vote on April 18th.  Alternatively, in-person absentee voting, during weekday business hours, at your locality's voter registrar's office(s) has already begin and will end this Saturday, April 15 (9 am – 5 pm)..
If we all pitch in as best we can, Jacqueline Smith will be elected on April 18.