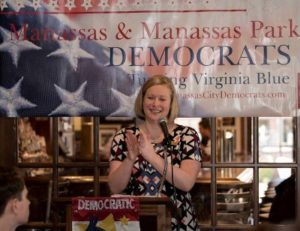 Congratulations to Democrat Jacqueline Smith for winning the April 18, 2017 special election for the vacant Clerk of the Prince William County Circuit Court position against Republican state delegate Jackson Miller (HD-50).
With 100 percent of the vote counted, Jacqueline Smith has out polled Jackson Miller by nearly 54% to 46%, winning 2,031 more votes out of the 25,785 votes cast.
Candidate                               Total  (Percent )
Jacqueline C. Smith                13,908 (53.92%)
Jackson Hunter Miller              11,877 (46.05%)
Overall election results for the April 18, 2017 special election
Election results for City of Manassas voters
Election results for Manassas Park voters
Election results for Prince William County voters
This victory belongs to everyone who knocked doors, called voters, and/or greeted voters at the polls on behalf of Jackie's campaign.  Although Jackson Miller received more votes than Jackie did within the City of Manassas, our work in Manassas and Manassas Park reduced Miller's vote margins on his home turf, thereby contributing to Jackie's victory.  The fact that Jackson Miller's campaign outspent Jackie Smith's campaign by at least six to one makes Jackie's election victory all the more remarkable.
Our best wishes to our new Clerk of the Court, Jacqueline Smith!