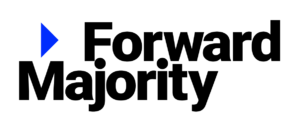 Update:  On June 6, Forward Majority announced that this event is being postponed until later this summer.
Forward Majority, a new organization fighting to take back state legislatures for Democrats, is holding a voter persuasion summit for Northern Virginia on Sunday, June 25, at George Mason University in Fairfax, VA.
This summit–which is intended for those working directly in House of Delegates campaigns as well as those who are going to be future leaders of the party and the state–will bring together the latest techniques and knowledge on persuasive communications, canvassing, and voter outreach. With strategic experts, local leaders, and experienced campaigners, attendees will develop useful skills and connections to create real change in their backyard.
At the Forward Majority Persuasion Summit, you'll find inspiring programs and community, and the skills and knowledge you need to truly make political change, one neighbor at a time. Our summit will bring together leaders in campaigning, messaging, and organizing, sharing years of knowledge and experience. You'll walk away knowing how to talk to our neighbors and how to persuade them that progressive candidates and policies best represent them and their values.
In this day-long summit, we'll share with you:
* How to better understand (and speak with) voters with diverse political views
* How to communicate platforms and values in a persuasive way
* How to open communications pathways to understanding others' core beliefs
* Stories and examples, from local leaders, of what works in Virginia and in your communities
* New techniques for direct community and voter engagement
* Plans and organizing models for taking this to your neighborhoods
* The next steps and game plans for winning back the House of Delegates in 2017!
The summit will run from 9 AM-5:30 PM with a number of breaks, and includes parking, coffee, and lunch.
Please register at: http://bit.ly/NoVaPersuasionSummit
A suggested donation of $25 is requested to cover the summit's costs and included coffee and lunch, but we want grassroots leaders here, and we are committed to supporting you in joining us. Either way, please head over to the event page to register.
Also, please encourage your friends and associates to participate. We're all in this together, and this will be a great opportunity to share the work you love and your commitment to equality and justice.
For questions and more information, please contact Dan MacCombie, Forward Majority Community and Training Manager at [email protected] or 917-960-2070.