Equality Virginia has scheduled three events in Manassas and Prince William County between June 17 and 21.  All LGBT residents and allies are encouraged to participate.
On Saturday, June 17, Equality Means Business will recognize and celebrate LGBT-friendly businesses in downtown Manassas, starting at Bad Wolf Public House, 9406 Battle St, Manassas at 11:00 am.
On Monday, June 19, help fill the Manassas City Council Chambers at 7:15 pm, when the Manassas City Council issues its first-ever proclamation recognizing June as LGBTQ History Month and honoring LGBTQ members of the community.   Supporters are encouraged to wear purple and gather in the lobby of Manassas City Hall at 6:45 pm.  After the proclamation is presented, participants will gather for a celebratory drink at Bad Wolf Public House, 9406 Battle St, Manassas.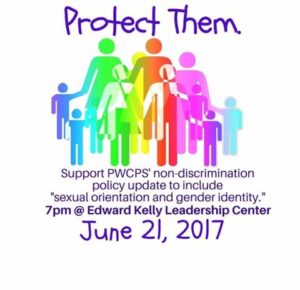 Finally, on Wednesday, June 21, supporters of nondiscrimination are asked to attend a public hearing of the Prince William County School Board, at 14715 Bristow Rd in Independent Hill, regarding proposed changes to its nondiscrimination policy to add the words "gender identity" and "sexual orientation".  Supporters are encouraged to again wear purple and to speak before the PWC School Board in support of protecting LGBTQ children and staff.   The hearing will begin at 7 pm and is expected to run for several hours.  Equality Virginia representatives will be on site starting at 5:30 pm.
For more information on any of these events and to RSVP, go to http://www.equalityvirginia.org/pwcproud/ .  In addition, the Manassas Park City Council will present its own proclamation honoring LGBT History Month on Tuesday, June 6th.