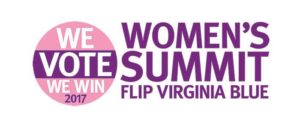 A coalition of progressive grassroots groups is organizing the Women's Summit, Flip Virginia Blue for Northern Virginia, "a HearOurVote strategy planning and team building retreat for women and men leading the grassroots initiatives to flip Virginia blue."  The event and retreat will feature keynote speakers, work sessions, and networking opportunities for any activists interested in defeating Republicans in Virginia this year and next year.  Registration is $35 through June 15; $50 after June 15.  Here are the details:
Women's Summit, Flip Virginia Blue
When: June 24th, 2017, 8:00am to 5:00pm
Where: The National Conference Center (click here for venue information)
18980 Upper Belmont Pl, Leesburg, VA 20176 (map)
Click here for the website
Click here for the program of events
Click here to register online
With the recent surge in independent progressive grassroots activity, many new organizations have formed to join the resistance.  Please register for this event, and pass it along to your friends!
At the event, several prominent elected Democrats from Northern Virginia will introduce our 2017 candidates for House of Delegates and local office.