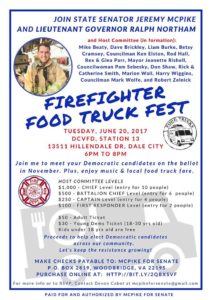 Please join State Senator Jeremy McPike and Lieutenant Governor Ralph Northam with Mike Beaty, Dave Brickley, Liam Burke, Betsy Cramsey, Councilman Ken Elston, Rod Hall, Rex & Gina Parr, Mayor Jeanette Rishell, Councilwoman Pam Sebesky, Rick & Catherine Smith, Marion Wall, Harry Wiggins, Councilman Mark Wolfe, Robert Zelnick (host committee still in formation) for the second annual Firefighter Food Truck Festival.  Proceeds will help elect Democratic candidates to the Virginia House of Delegates!
Tuesday, June 20, 2017
Dale City Volunteer Fire Department, STATION 13
13511 Hillendale Dr, Dale City
6 pm to 8 pm
HOST COMMITTEE LEVELS:
$1,000 – CHIEF LEVEL (entry for 10 people)
$500 – BATTALION CHIEF LEVEL (entry for 6 people)
$250 – CAPTAIN LEVEL (entry for 4 people)
$100 – FIRST RESPONDER LEVEL (entry for 2 people)
INDIVIDUAL TICKETS:
$50 – Adult Ticket
$30 – Young Dems Ticket (18-30 years old)
*Kids under 18 years old are free*
Your support is greatly appreciated! We must continue to build support in Virginia!
Buy tickets and/or donate via Act Blue.
To contribute by mail, you may use this form.  Please send a check made out to:
McPike for Senate
P.O. Box 2819
Woodbridge, VA 22195