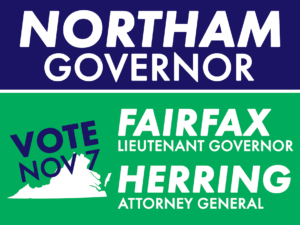 With only 11 weekends left until the November 7th General Election, it's time to ramp up our coordinated campaign activities for our three statewide candidates (Ralph Northam for Governor, Justin Fairfax for Lieutenant Governor, and Mark Herring for Attorney General), our candidates for the Virginia House of Delegates (Lee Carter [HD-50] in Manassas and Danica Roem [HD-13] in Manassas Park), and our candidates for City of Manassas Treasurer (Patricia Richie-Folks) and Commissioner of the Revenue (Alonita Vannoy).
Please join us for voter canvasses or phone banks this Saturday (8/26) and/or Sunday (8/27) at the DPVA Coordinated Campaign Manassas Field Office at 9548 Surveyor Ct, Manassas, VA 20110.
We will specifically reach out to Manassas and Manassas Park voters on behalf of our full slate of Democratic candidates.  Shifts will start at 9 AM, Noon, and 3 PM on Saturday, and at Noon and 3 PM on Sunday.
Detailed training at the start of each shift will ensure that you are well prepared to talk to the voters.   Please plan to arrive a few minutes before the start of your shift.
Attorney General Mark Herring will personally launch the 3 PM shift this Sunday, so please stop by then to show your support.
Our one-on-one conversations with targeted voters are a vital and very effective way to persuade these voters to show up at the polls and to vote for our Democratic candidates.  While these coordinated canvasses and phone banks will efficiently promote our entire slate of Democratic candidates, we can't reach all of our targeted voters without your help.
If we would each commit to undertake, on average, at least one canvass or phone bank shift each week leading up to November 7, all of our candidates should prevail on Election Day.  As Democratic Party members, that's a relatively small investment for a better future.
Please use this link to sign up in advance: https://goo.gl/forms/cNim201vi5ame7yw2
Thank you for working to elect our great Democratic candidates.  We look forward to seeing you this weekend.