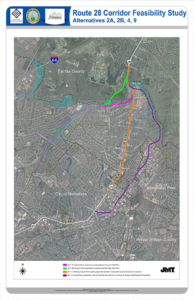 Prince William County and the Cities of Manassas and Manassas Park, in partnership with the Northern Virginia Transportation Authority, are holding a public information meeting on their Route 28 Corridor Feasibility Study on Thursday, September 7, from 6:30 pm to 8:30 pm at the Manassas Park Community Center, 99 Adams St, Manassas Park, VA 20111.  The meeting will include a project overview presentation beginning at 7:00 pm.
According to the study website, the "project goals for the Route 28 Corridor Feasibility Study are to identify infrastructure improvements that will improve travel times and network reliability within the Route 28 Corridor through Prince William County, the City of Manassas and City of Manassas Park [between Godwin Dr at the west Manassas city line and Compton Rd in southern Fairfax County] and develop a plan to implement these improvement project(s)."
The public is invited to review and comment on the four alternatives for long-term corridor improvements that currently remain under consideration.
View the May 11, 2017 study briefing.
Prince William County news release of August 29, 2017, describing a proposed Comprehensive Plan amendment for the presumed preferred alternative (2B) from this study.
For those unable to attend the September 7th meeting, a second, identical meeting will be held on Monday, September 11, from 6:30pm to 8:30pm, at the Centreville Elementary School cafeteria, 14330 Green Trails Blvd, Centreville, VA 20121.