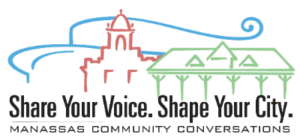 The City of Manassas is holding a series of "Community Conversations" to gather ideas, priorities, and visions for the community's future from individuals, families, neighbors, business professionals, and community leaders. This is your opportunity to shape Manassas by sharing your perspectives and providing input on key topics such as quality of life, services, transportation, land use, and economic development.
This community engagement process follows up on the City's 2014 and 2016 community surveys, in which the following 10 community priorities were identified in order of importance.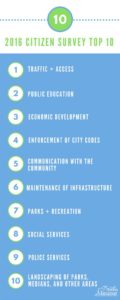 While all of the originally scheduled engagement sessions have already passed, the following upcoming sessions were recently added:
Friday, October 6, 12 PM – Business Focus Group
​Centerfuse Co-work Space / 9071 Center Street​​
​
​Thursday, October 12, 7 PM – Everyone​!
​Bull Run Unitarian Church / 9350 Main Street
​
​Wednesday, October 18, 7PM – Everyone!
​Bethel Lutheran Church / 8712 Plantation Lane
Monday, November 20 2017, 7 PM
Town Hall Meeting: Final Report Out
Baldwin Elementary/Intermediate School
You can also engage with City staff at the farmers markets in downtown Manassas on October 21 and 26.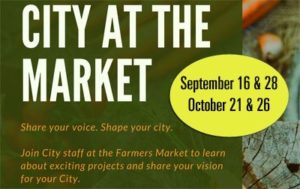 In addition, you can participate online through the City's new online engagement portal!
The Community Conversations will dig deeper into the "why" of the top priorities to find location-specific issues and gauge if any priorities are missing from the list generated by the survey. The findings from both the survey and the Community Conversations will assist the City in updating its strategic priorities and comprehensive plan. Join the conversation!