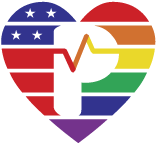 This Sunday afternoon, State Senator Adam Ebbin (D-30), the Pride Fund to End Gun Violence, LGBT Dems, and Arlington Dems are traveling to the 13th House District in Manassas Park and western Prince William County to help elect Danica Roem and unseat the 24-year Republican incumbent, Del. Bob Marshall.
What: Danica Roem for Delegate Canvass Launch
When: Sunday, September 17th at 2 PM
Where: Danica Roem Campaign Office, 9548 Surveyor Ct, Manassas VA 20110
As you know, Danica is the first transgender candidate to run for office in the Commonwealth. Bob, her opponent, prides himself on being Virginia's biggest homophobe, opposes gays and transgenders from serving in the military, and proposed a bathroom bill that would prevent transgender individuals from using the bathroom of their gender identity. In the wake of Sandy Hook, Bob proposed legislation that would require Virginia's teachers to carry concealed handguns. He needs to go!
Electing Danica is critical. Whether you reside in the 13th district or not, when Bob Marshall goes to the State House his vote affects all Virginians. Please join your community and stand with Danica by knocking doors this Sunday!