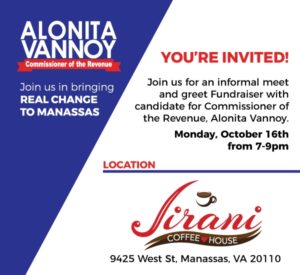 Please join us for this informal meet and greet fundraising event to benefit Alonita Vannoy's campaign for Manassas Commissioner of the Revenue.. Get to know Alonita and her campaign supporters, enjoy the food, and have some fun!
Date and Time: Monday, October 16, 2017, 7:00-9:00 pm
Location: Jirani Coffee House, 9425 West St, Manassas VA 20110
Suggested Contribution Levels: $200 = Gold Sponsor | $100 = Silver Sponsor | $50 = Bronze Sponsor
Please RSVP via email to [email protected] by Tuesday, October 10.
You may donate online at https://secure.actblue.com/donate/alonita or mail your check payable to "Alonita 4 Commissioner of the Revenue" to PO Box 1253, Manassas VA 20109.
Authorized by Friends of Alonita 4 Commissioner of the Revenue