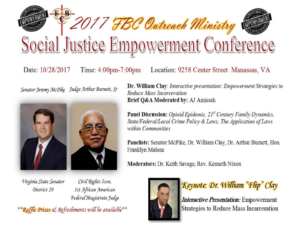 Click on image above to enlarge
***Raffle prizes and refreshments will be served.***
Join public officials and subject matter experts to gain insight into the problems facing communities such as the drug epidemic, mass incarceration, and drug policy.
Mass incarceration drives economic inequality and poverty and ultimately makes it harder to compete in the global economy. The United States, with only 5 percent of the world's population, has 25 percent of the world's prisoners. If the prison population were a state, it would be the 36th largest, bigger than Delaware, Vermont, and Wyoming combined.
Dr. William Clay will deliver a powerful Interactive presentation: Empowerment Strategies to Reduce Mass Incarceration.
AJ Amissah (Attorney) will moderate a brief Q & A session after Dr. Clay's presentation. A dynamic panel discussion will follow.
Panelists include:
Virginia State Senator (SD-29) Jeremy McPike
DC Commissioner Franklyn Malone
Judge Arthur Burnett, Sr., 1st African American Federal U.S. Magistrate, and Retired Superior Court Judge – D.C.)
Dr. William Clay