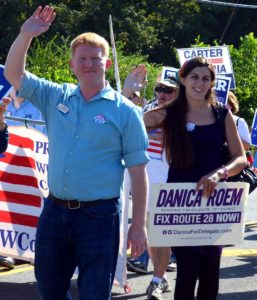 Delegates-Elect Lee J. Carter (HD-50) and Danica Roem (HD-13)

On November 7, 2017, Manassas and Manassas Park voters helped propel Democrats Ralph Northam, Justin Fairfax, and Mark Herring to victory over their Republican opponents in the three statewide races for governor, lieutenant governor, and attorney general, respectively,  Moreover, the respective Democratic margins in Manassas (56.9%-41.9%, 56.4%-43.5%,and 56.8%-43.2%) and Manassas Park (63.7%-34.6%, 63.5-36.4%, 63.6%-36.3%) all exceeded the statewide Democratic margins (53.9%-45.0%, 52.7%-47.3%,and 53.3%-46.6%).
In House District 50 (HD-50), which includes the entire City of Manassas plus 8 precincts in Prince William County, Democrat Lee Carter, campaigning as a democratic socialist, unseated 11-year House of Delegates incumbent and 6-year House Majority Whip Jackson Miller.  Carter's overall vote margin was 54.3%-45.5%.  Within the City of Manassas, Jackson Miller's home turf, Carter won by.a 52.5%-47.4% vote margin.
Meanwhile, in Manassas Park, a 60.8%-38.9% vote margin helped Democrat Danica Roem, a former local reporter and a transgendered woman, retire 26-year Republican incumbent and notorious social conservative Delegate Bob Marshall to become the new state delegate from HD-13.. The overall vote margin in HD-13, which includes 15 precincts in Prince William County, was 53.4%-45.7% for Roem.
In a rematch of the 2016 special election for Manassas City treasurer, Democratic incumbent Patricia Richie-Folks defeated her second-time Republican opponent, Russell Harrison, by an even bigger margin (55.0%-44.6%) in 2017 than during the 2016 presidential election (51.2%-48.3%).
The only Democrats on our ballots to not win election in Manassas and Manassas Park were our candidates for commissioner of the revenue in each city.   Democrat Alonita Vannoy lost to Doug Waldron by a 47.8%-51.8% vote margin in Manassas, whereas Democrat James Kirkland lost to Debra Wood by a 47.7-51.7% vote margin in Manassas Park.. Considering that Vannoy and Kirkland were both first-time candidates challenging long-time incumbents for a nonpartisan office, both Democrats polled quite well.
Among the 100 House of Delegate contests statewide, the Democratic Party immediately picked up at least 15 seats on November 7, based on the initial vote counts, with three additional races nearly tied and requiring a recount. This changed the partisan balance in the Virginia House of Delegates from 66-34 Republican to no worse than 51-49 Republican. After the first recount in HD-40 was decided in favor of the Republican incumbent (Tim Hugo), the second recount in HD-94 on December 19 was determined by a court to be a tie which was broken in favor of the Republican incumbent by a random drawing.  Meanwhile, although the Republican won the recount in HD-28, a lawsuit for a new special election in HD-28, due to extensive ballot distribution errors on November 7, is still pending. Thus, eventual Democratic pickups in HD-28 and/or HD-94 remain remote possibilities.
Among the eight House of Delegate districts within parts of Prince William County, the partisan balance has shifted from 6-2 Republican to 7-1 Democrat.  The sole Republican elected, HD-40 incumbent Tim Hugo, defeated his Democratic challenger, Donte Tanner, by just 99 votes.  In addition, the Democrats have picked up a total of four more seats in Fairfax and Loudoun Counties.  Consequently, Democrats will hold all but two seats in the House of Delegates from all of Northern Virginia.
Congratulations to all our candidates for running effective and positive campaigns for progressive change.
View the Official Election Results in the City of Manassas
View the Unofficial Election Results in the City of Manassas Park