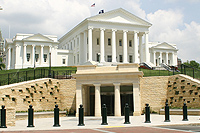 The Prince William County delegation to the Virginia General Assembly is holding a joint pre-2018 Legislative Session public hearing for local residents to relate their concerns.  All Prince William County, Manassas City, and Manassas Park residents and organizations are invited to attend and speak.  Please sign up in advance, using this form.
Prince William County 2018 General Assembly Public Hearing
Saturday, January 6, 2018
1 p.m. – 4 p.m.
James J. McCoart Administrative Building
1 County Complex Court
Woodbridge, VA 22192
To accommodate as many speakers as possible, all participants are asked to respect these guidelines:
Speak for no more than three minutes
Sign up only once
Each organization is limited to two speakers
Participants should bring 15 copies of any materials they wish to give to the PWC delegation
All speakers be on time
Should you have any questions, please contact Devon Cabot in Senator Jeremy McPike's office at 571-316-0581 or [email protected] .
If you are interested in addressing the Prince William County Delegation regarding your concerns for the General Assembly Session, please sign up using the link provided:
PRINCE WILLIAM COUNTY PUBLIC FORUM SIGN-UP FORM