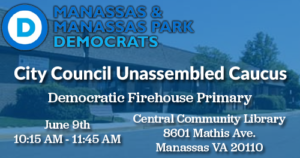 FOR IMMEDIATE RELEASE
June 2, 2018
Democrats Announce Nominating Caucus for City of Manassas City Council
Manassas VA—The Manassas & Manassas Park Cities Democratic Committee (MMPCDC) will hold an unassembled party caucus to select three Democratic nominees for City of Manassas City Council in the November 6, 2018 General Election.
The unassembled caucus, also known as a "firehouse primary", will be held on Saturday, June 9, 2018, from 10:15 to 11:45 am, at the Central Community Library, 8601 Mathis Ave., Manassas VA 20110 in the Central Community Room.
The nominating caucus will choose between the four candidates who have properly filed for the Democratic nomination – E. Michelle Davis-Younger, Ken D. Elston, Rex G. Parr Jr and Dr. Oliver T. Reid – in response to the MMPCDC's call for candidates issued on May 1, 2018. The deadline for candidates to file for this Democratic nomination was June 2 at 5:00 pm.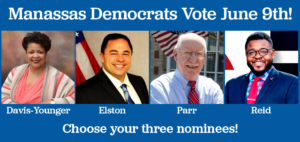 Voting in the caucus is open to every citizen who is registered to vote in the City of Manassas and agrees to not support any candidate in the General Election who is opposed to the resulting Democratic nominees.
The doors to the caucus room will open for voter certification and voting at 10:15 am and will close at 11:45 am. Anyone standing in line at 11:45 am will be allowed to vote. Voting must be in person at the time and location noted above. Voters may arrive anytime between 10:15 and 11:45 am, cast their ballot, and leave. Voters will be allowed to vote for up to three candidates.
The caucus rules and other pertinent forms and information are posted on the MMPCDC website (www.manassascitydemocrats.org).
For questions about the Caucus, please contact Mike Freeland, co-chair of the MMPCDC at [email protected] or 571-358-9893.
###
Editor's Contact:
Mike Freeland, Co-Chair MMPCDC
[email protected]
571-358-9893