The following article is from the Blue View on June 15. Congratulations to Senator Jennifer Wexton, our CD 10 nominee.
Former opponents pledge support to Jennifer Wexton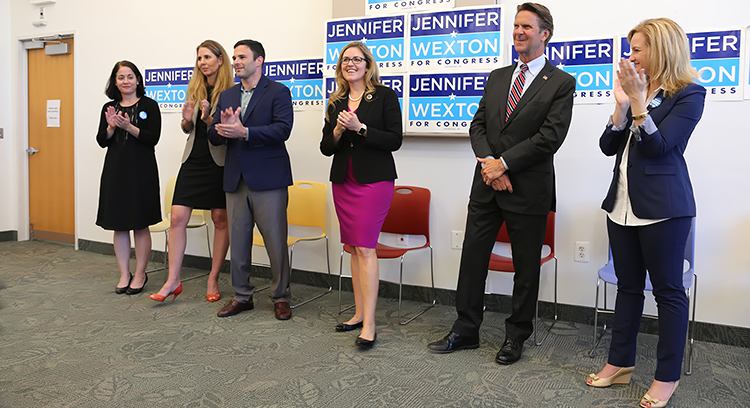 By Stephanie Witt Sedgwick:
The Virginia CD-10 primary candidates gathered today in Sterling, Va., to pledge their support for Tuesday's primary winner, state senator Jennifer Wexton (D-33).
The CD10 Unity event fulfilled a pledge all candidates had taken to support whoever won the primary.  Moderator Zach Pruckowski, Chair of the 10th Congressional District Democratic Committee, declared all the candidates winners for living up to their promise and joining the event.
Each of the five losing candidates then expressed their support for Del. Wexton and urged the crowd to keep their eyes on the prize, beating Republican incumbent Barbara Comstock in the general election in November.
Julia Biggins, a research scientist, said "The voters have spoken and Jennifer Wexton is our choice." She offered any help she could give including acting as a consultant on any science related areas.
Alison Friedman, an anti-human trafficking activist, said Congress needs to be held responsible for refusing to to exercise their role in holding the President accountable. Jennifer Wexton, she said, will bring good representation that will stand up for democracy.
Vowing to support Wexton's candidacy in any way he could, from pulling in veterans to helping with viral videos, Dan Helmer, a former Army officer, also noted that everyone is united, excited and energized for the campaign.
Echoing the sentiment of the crowd, former federal prosecutor Paul Pelletier called Wexton, "the best person for the job," and declared, "the fight starts right here."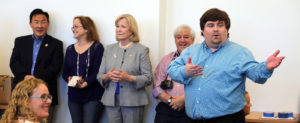 Lindsey Davis Stover, an Obama Administration political advisor, thanked everyone for putting Democrats in the best position to win. She stressed the opportunity this campaign has given Democrats to reach out to every single voter in every part of the district.
Wexton wrapped up the event at the Cascades branch of the Loudon County public library system, thanking all her former opponents, now supporters. She pointed out that, "our journey is just beginning." She said that Democrats stand for many things, including a country where children are not taken from their parents for trying to cross the border; where workers don't hold down two or three jobs and still are not able to afford prescription drugs; and where it isn't easier to buy a gun than to vote.
Wexton ended with her campaign message, directing the campaign's slogan to her opponent in the general election, Barbara Comstock, as much as to the crowd:  "Change is Coming."
In photo above story, former Democratic primary candidates for CD-10 throw their support behind winner Jennifer Wexton. From left, Julia Biggins, Alison Friedman, Dan Helmer, Wexton, Paul Pelletier and Lindsey Davis Stover.