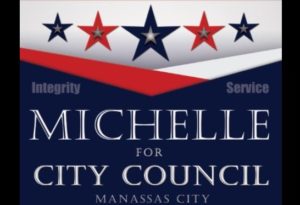 Join Michelle Davis-Younger as she officially launches her campaign for Manassas City Council on Saturday, August 11, 2018, 4-6 pm, at 9429 Flowerden lane, Manassas, VA 20110.
Please RSVP at http://michelle4manassas.rsvpify.com .
Michelle is running for city council to strengthen our local economy, invest in better recreational opportunities (including a state-of-the-art community center), and ensure that every Manassas City Public Schools student receives a world-class education.
To win her election, Michelle needs your volunteer commitment and financial support.
You may donate to Michelle's campaign at her secure Act Blue page or bring a personal check to the launch event on August 11.  Similarly, you can sign up to volunteer for Michelle's campaign on her website or at her campaign launch event.
We hope to see you there!