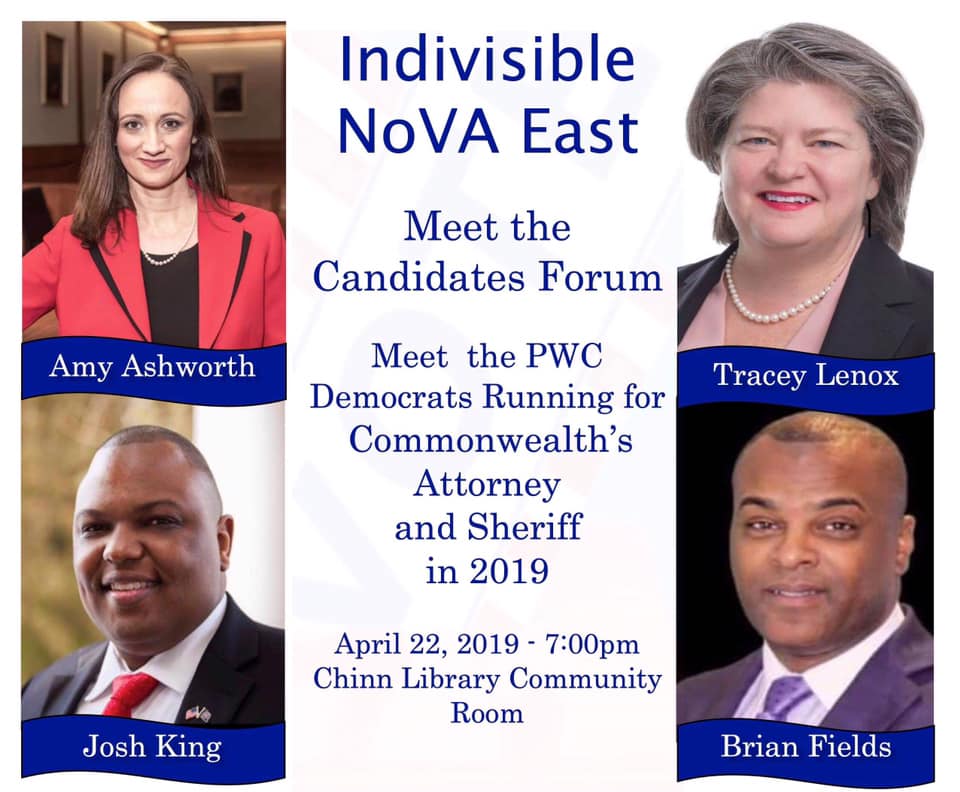 When: Monday, April 22, 2019 at 7 PM – 8:30 PM
Where: Chinn Park Regional Library, 13065 Chinn Park Drive, Woodbridge, Virginia 22192
Details: Come out and spend an hour talking to your next Justice League for Prince William County! For the June 11, 2019 Primary Election:
Amy Ashworth and Tracey Lenox are both running to be YOUR next PWC Commonwealth's Attorney
Brian Keith Fields and Josh King are both running to be YOUR next PWC Sheriff
This event for Indivisibles and its allies provides an open, respectful forum to hear from each candidate and ask your questions directly. Between 7 and 8pm, we expect 45 minutes of open candidate intros and Q&A, followed by a group picture (time permitting).
🍃🍃BECAUSE IT'S EARTH DAY🍃🍃 LET'S REUSE PWC!
Bring your empty, rinsed plastics or empty pantry cardboard boxes for a local Elementary School Maker Space classrooms OR bring your grocery store bags for local shelters using them to send food home with those in need of assistance.
🙏🏼BECAUSE WE ARE A TEAM!🙏🏼
We appreciate any volunteers willing to help pack up chairs starting at 8pm sharp so we're out by 8:30.
Event announcement on Facebook

See you there!!!