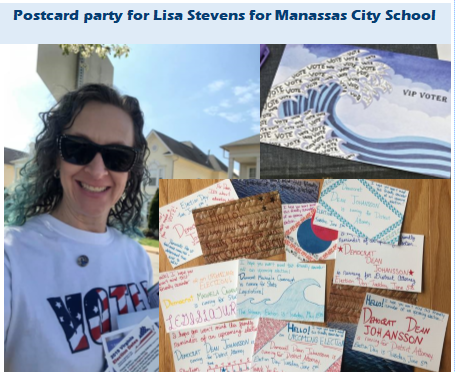 Lisa Stevens has organized a postcard party* and canvass for the full slate of Democratic candidates in the City of Manassas!
Come join us this Sunday, September 22nd, for lunch, postcards, and canvassing for Lisa Stevens, Ralph Smith, Amy Ashworth, Josh King, and Lee Carter.
Sunday, September 22, 2019 at 12 PM – 3 PM
Bull Run Regional Library, 8051 Ashton Ave
Enjoy lunch, write postcards, and (for those who are interested) canvass with friends. We'll supply everything, and I mean everything you need to write as many postcards as you can.
Join us for the whole event, for an hour, or take a stack of postcards to go (we'll supply a sample card).
This is a family friendly event, lunch and drinks will be provided.
Bring a friend, or two. Hope to see you Sunday!
RSVP by email to: Lisa Stevens
* What is a postcard party? Postcards written at postcard parties "are friendly, handwritten reminders from volunteers to targeted voters giving Democrats a winning edge in close, key races coast to coast." (postcardstovoters.org).*