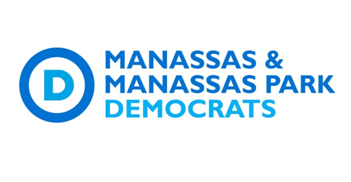 The Manassas & Manassas Park Cities Democratic Committee (MMPCDC), in coordination with the Democratic Party of Virginia (DPVA), has announced a revised process–necessitated by the COVID-19 pandemic–to elect state delegates and alternates from the Cities of Manassas and Manassas Park to Virginia's 10th Congressional District (10th CD) Democratic Convention (which will meet briefly, online only, on May 9, starting at noon) and the Statewide Democratic Convention (currently scheduled for June 20 in Richmond, VA).
A total of 2000 state delegates plus 500 alternates will be elected statewide in Virginia. At the Congressional District and State Democratic Conventions, these state delegates will elect most of Virginia's 99 national delegates and 8 alternates to the 2020 Democratic National Convention, which was recently rescheduled for August 17-20 in Milwaukee, WI.
All 206 state delegate and 51 alternate slots within Virginia's 10th CD are pledged to a specific Democratic presidential candidate; namely, either Former Vice President Joe Biden or U.S. Senator Bernie Sanders. Those delegate and alternate slots have been further allocated for each Virginia locality based on their number of Democratic voters and the results of the March 3, 2020 presidential primary.
Click here for a full statewide breakdown of Virginia's national and state Democratic delegate and alternate allocations.
The City of Manassas has been allocated 9 state delegate and 2 alternate slots, with 6 delegates and one alternate pledged to Joe Biden and 3 delegates and one alternate pledged to Bernie Sanders. The City of Manassas Park has been allocated 4 state delegate slots and one alternate slot, with 2 delegates and one alternate pledged to Joe Biden and 2 delegates and 0 alternates pledged to Bernie Sanders.
Due to the COVID-19 pandemic, the state delegates and alternates will not be elected via in-person caucuses. Instead, DPVA staff, working with the local Democratic Committee chairs, will administer online unassembled caucuses (firehouse primaries) for all contested state delegate and alternate elections. Those online unassembled caucuses will be open for voting between noon on April 18 and 7:00 pm on April 20.
Moreover, the DPVA has issued a revised and singular Statewide Call to Virtual Caucus that applies to every locality in Virginia.
Anybody who wishes to participate (either by running for state delegate or alternate and/or just to vote) in the upcoming caucuses must pre-register with the State Party by April 9th at 5:00 pm, using the appropriate online form:
The latter form is required to conduct this election virtually and ensure that anybody who wants to vote in a caucus has a chance to do so.
State delegate and alternate candidates (but not caucus voters) are asked to make a $25 voluntary payment to defray the cost of this process.
Any group of state delegate and/or alternate candidates who wish to run as a candidate slate in the April 18-20 virtual caucus must file this additional form by 5 pm on April 9.
Click here for the form to pre-file for election as a National Delegate or Alternate to the Democratic National Convention (recently rescheduled for August 17-20 in Milwaukee, WI). The pre-filing deadlines are April 24 at 5:00 pm for the 10th CD Convention and May 21 at 5:00 pm for the Statewide Convention.
Click here for the form to pre-file for election to one of five DPVA seats on the Democratic National Committee (to be elected at the DPVA State Convention on June 20).
Updates on the status and format of the 10th CD and Statewide Conventions are expected soon and will be posted on the MMPCDC website when they become available.
For more information, read the above-referenced Call to Caucus or visit the MMPCDC website (manassascitydemocrats.org) or the DPVA Website (http://vademocrats.org/delegateselection). If required, DPVA staff will provide online filing assistance by telephone at 844-4VA-VOTE (844-482-8683) Monday through Friday between 9 am and 5 pm.