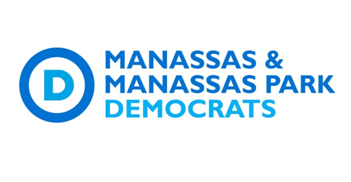 UPDATE AS OF APRIL 23, 2021, 5:00 PM:  The nomination caucus scheduled for May 1, 2021 has been cancelled since no candidate has filed for either nomination. 
FOR IMMEDIATE RELEASE: Friday, April 9, 2021
The Manassas and Manassas Park Cities Democratic Committee (MMPCDC) has scheduled an unassembled caucus to nominate Democratic candidates for two City of Manassas Park constitutional offices–Treasurer and Commissioner of the Revenue–for the November 2, 2021 General Election.
Candidates who seek the Democratic Party nomination for either of those offices must submit a completed Declaration of Candidacy form and a $500 filing fee to the MMPCDC by Friday April 23, 2021 at 5 pm. Complete details–including the Call to Caucus, the Declaration of Candidacy form, the Caucus Voter Declaration form, and the Caucus Rules–are posted on the MMPCDC website, www.manassascitydemocrats.org.
If more than one candidate should properly file for the Democratic nomination for either or both offices by the April 23rd deadline, an unassembled caucus (aka firehouse primary) will be held to select the respective nominee(s).
The caucus for these City of Manassas Park nominations is scheduled for Saturday, May 1, 2021, 10:00 am – 2:00 pm at the First New Birth Baptist Church, 9212 Lee Ave, Manassas VA 20110. The doors will open at 10:00 am for check in and will close promptly at 2:00 pm. Each voter may arrive during the time listed, cast his or her vote, and leave. Anyone in line at 2:00 pm will be allowed to vote. Voting will be open to all registered voters from the City of Manassas Park who sign a standard Democratic Declaration Form and arrive for voting before 2 pm.
If only one qualified candidate files for a nomination by the April 23 deadline, the Chair may declare that candidate to be the Party's nominee and cancel the nominating Caucus. A notice of any such caucus cancellation will be posted on the MMPCDC website by April 23 at 7:30 pm.
For more information, call 571-358-9893 or visit https://www.manassascitydemocrats.org/ .
###
Associated Documents: