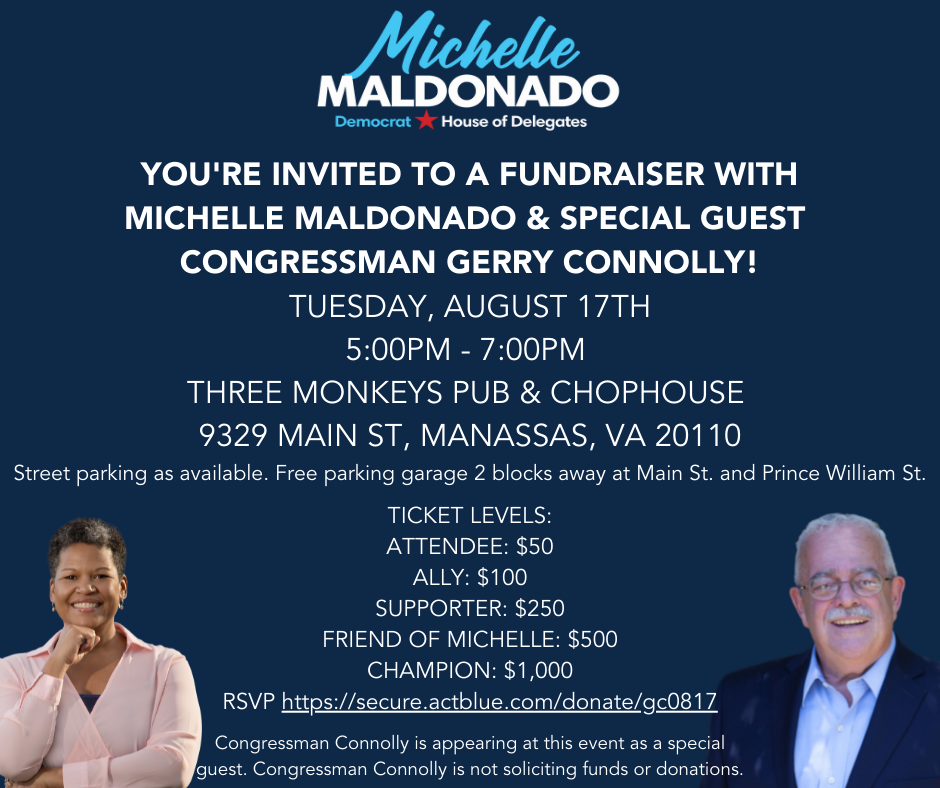 Please join special guest Congressman Gerry Connolly (VA-11) for a fundraising reception to support Michelle Maldonado's campaign for House of Delegates (HD-50), on Tuesday, August 17, 2021, 5-7 pm, at Three Monkeys Pub & Chophouse, 9329 Main St, Manassas VA 20110.
Due to space limitations, this is a ticketed event. RSVP and purchase your ticket(s) here.
Congressman Connolly writes:
From my years in public service, I've observed that some people run for public office because they want to BE something. But true leaders run for office because they want to DO something. Michelle Maldonado is running to do something meaningful and lasting for the people of her district and the Commonwealth.
She's running to make sure that our economic recovery doesn't leave people behind. She's running to ensure that we have the very best schools that support our teachers and transform students' lives. She's running to create Virginia's green-collar jobs that will not only support families, but also help protect our environment.
Michelle Maldonado is a proven leader who will bring a fresh, new perspective and experience to our General Assembly.
Not only am I honored to endorse Michelle, I'm excited to invite you to join me at an event to support her campaign.
Tuesday, August 17th
5:00pm – 7:00pm
Three Monkey's Pub and Chophouse
9329 Main Street in Old Town Manassas
(Street parking is available. Free parking garage 2 blocks away at Main St. and Prince William St.)
Please join Congressman Connolly and Michelle for some food, drinks, and fun as we raise money to get Michelle elected. You can RSVP by purchasing a ticket and supporting the type of leader we need in office.