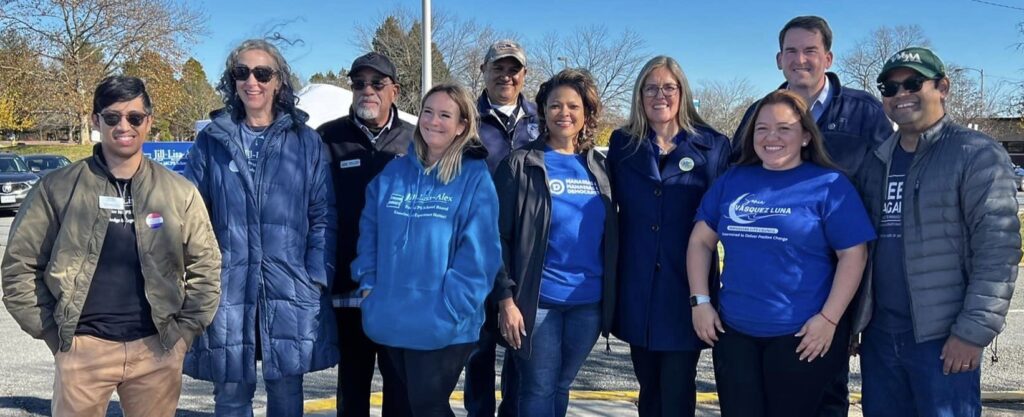 Although two of our nine Democratic candidates were not elected this year, seven of our candidates were victorious in what had been predicted to be a difficult year, both nationally and locally, for the Democratic Party's election prospects.
Congresswoman Jennifer Wexton was elected to her third term in the U.S. House of Representatives with vote shares of 56.3% in Manassas and 60.5% in Manassas Park.
In Manassas Park, incumbent Democratic council members Alanna Mensing and Haseeb Javed were both elected to their second terms on the Governing Body with the highest- and second-highest vote tallies for the three available seats.
With the election of Sonia Vasquez Luna and the re-election of incumbent Council Member Ralph Smith, our Democratic nominees won two of the three available seats on the Manassas City, for a net gain of one at-large seat. Ms. Vasquez Luna also made history as the first Latina elected to the Manassas City Council. Although Dheeraj "DJ" Jagadev, our third Manassas City Council nominee, was not elected, we are proud of his solid and honest campaign.
In the race for three seats on the Manassas City School Board, two of our endorsed Democrats, incumbents Lisa Stevens and Jill Spall, were elected as the first-place and third-place finishers, respectively. Our third endorsed candidate, 23-year-old Alex Iqbal, who had served admirably as an appointed school board member since January 2022, regrettably did not win election, but we are confident of Alex's bright future.
We congratulate our seven successful candidates and deeply thank the scores of campaign volunteers who helped us reach out repeatedly to many thousands of voters in our two cities. Our 2023 campaigns for state senator, state delegate, sheriff, commonwealth's attorney, and clerk of the court will soon be underway.
View the detailed 2022 general election results for Manassas and Manassas Park.