Google
Two Blue Cities Breakfast, July 8, 2023
View Mike Beaty's wonderful photo album from this event on Flickr.
Below is the announcement for our last event held on July 8, 2023.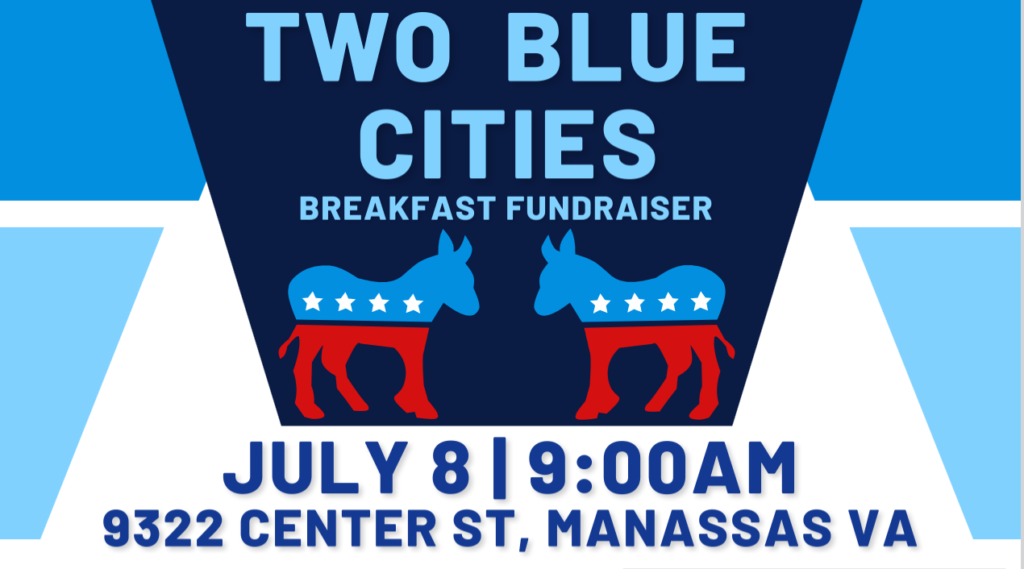 Please join us for the Manassas & Manassas Park Cities Democratic Committee's 2023 Two Blue Cities Breakfast, our oldest and largest annual fundraising and recognition event, on Saturday, July 8, from 8:30-11 am, at the Greater Manassas Volunteer Rescue Squad's John S. Hutton Jr. Event Hall, 9324 Center Street, Manassas, VA 20110 (near the Social Security office).
The doors will open at 8:30 am, breakfast will be served at 9 am, and the program will start at 9:30 am.
Our Two Blue Cities Breakfast celebrates MMPCDC's outstanding Democratic elected officials and volunteer leaders, while raising the funds needed to help support our slate of Democratic candidates in the November General Election.
Enjoy a generous served breakfast buffet and the fellowship of your Democratic friends and neighbors, while hearing from our distinguished keynote speaker (TBA) and a host of elected officials and 2023 election candidates.
All local and state elected officials and General Election candidates representing Manassas, Manassas Park, or Prince William County will be invited.
Event Tickets
Individual Tickets: $40
Two Tickets: $75
Four Tickets: $145
Eight Tickets: $280
Two Blue Cities Sponsorship Levels
True Blue (includes 1 ticket): $100
Blue Circle (includes 2 tickets): $250
Blue Star (includes 4 tickets): $500
Blue Champion (includes 8 tickets): $1000
Please RSVP by July 5, 2023 by paying online at our secure Act Blue page. Alternatively, you may mail your check payment to MMPCDC, P.O. Box 4041, Manassas, VA 20108 and also RSVP to [email protected] or 571-358-9893.
View Mike Beaty's excellent photo album from our 2022 Two Blue Cities Celebration, July 23 at the Manassas Park Community Center: Thank you, Mike!
We are following the current CDC guidelines regarding COVID-19 and highly recommend that if you are not feeling well that you do not attend this event. Updates will be made on this webpage regarding any changes to our scheduled event.
Paid for and authorized by the Manassas & Manassas Park Cities Democratic Committee. Not authorized by any candidate or candidate's committee. Contributions or gifts to MMPCDC are not deductible as charitable contributions for federal income tax purposes.
Any federal elected official who attends this event will attend solely as our special guest and speaker. They will not solicit campaign contributions at this event, and no proceeds from this event will fund any federal election campaign.