Google
Voting Information
November 5, 2019 General Election
On Tuesday, November 5, 2019, Manassas and Manassas Park voters will elect a state senator, a state delegate, a county sheriff, and a county commonwealth's attorney.   The City of Manassas will also include special elections for one Manassas City Council seat and for one Manassas School Board seat on its November 5 ballot.
Ensure that you can vote at your regular polling place on Election Day or, if you qualify, vote earlier by absentee ballot.
Check your Virginia Voter Record
If you have registered to vote in Virginia in the past, verify that you are still registered to vote and that your address is up to date.
Register to Vote
If you have not yet registered to vote in Virginia or if you need to update your address, you must fill out the Virginia Voter Registration Application. You have the following registration options:
• Register online via the Department of Elections website.
• Complete a voter registration application by mail.
• Appear at any voter registration site in Virginia, including the City of Manassas office at 9025 Center Street, Manassas, VA 20110, the Manassas Park office at City Hall, One Park Center Court, Manassas Park, VA 20111, or the Prince William County office at 9250 Lee Ave, Suite 1, Manassas, VA 20110 .
• Apply for registration while visiting any state DMV office.
For the November 5, 2019 General Election, the deadline to register to vote or change your address is Tuesday, October 15, 2019.
Registration Requirements
You must be
• A United States citizen
• A resident of Virginia
• 18 years old by the next general election (17-year-olds who will turn 18 by the next general election may register in advance and may vote in the primary, if any)
• If you have been convicted of a felony or judged to be mentally incapacitated, you must have your rights restored before registering to vote. Visit the website of the Secretary of the Commonwealth for information on the rights restoration process.
Absentee Vote in Person or by Using Ballot-By-Mail
Registered voters who–for any of 20 listed reasons–might be unable to appear in person at the polls on Election Day may apply for an absentee ballot. These listed reasons include employment outside ones locality of residence, college or university attendance outside ones locality of residence, working and commuting for 11 or more hours on Election Day, disability or illness, primary caregiver for a family member confined at home, pregnancy, first responder, active-duty military (or spouse), as well as personal business or vacation travel outside of ones locality of residence on Election Day and temporary residence outside the U.S.  Having personal business outside one's locality of residence (reason code 1D) could easily apply to virtually everyone in Northern Virginia.
Voters who are eligible may request a mail-in absentee ballot up to 12 months prior to an election, by either filling out an online application at this portal or downloading and mailing in the paper absentee ballot application.  The deadline to request a mail-in absentee ballot for the November 5 General Election is Tuesday, October 29, 2019 at 5:00 pm.
For the November 5, 2019 General Election, in-person absentee voting will be available Friday, September 20 through Saturday, November 2.  You will complete an application for an absentee ballot at the office before you are allowed to vote.
For the City of Manassas, in-person absentee voting is located in the Old Town Hall building, 9025 Center St, from 8:30 am to 5:00 pm on weekdays (except federal holidays) from September 20 through November 1 for the General Election.  In-person absentee voting will also be available from 9:00 am to 5:00 pm on the last two Saturdays (October 26 and November 2) before the November 6th General Election.  For the City of Manassas Park, in-person absentee voting is available at City Hall, One Park Center Ct, at the same dates and times, except weekday hours are from 8:30 am to 4:30 pm.
Vote on Election Day
To vote on Election Day, you must go to your designated polling place. Polls open at 6 AM and close at 7 PM. If you need a ride to the polls, please contact 571-358-9893 .
The City of Manassas has six precincts starting in 2017, including a new precinct at Round Elementary School:
Precinct 001: Dean Elementary School
9601 Prince William Street
Precinct 002: Weems Elementary School
8750 Weems Road
Precinct 003: Metz Middle School
9950 Wellington Road
Precinct 004: Haydon Elementary School
9075 Park Avenue
Precinct 005: Baldwin Elementary School
9705 Main Street
Precinct 006: Round Elementary School
10100 Hastings Drive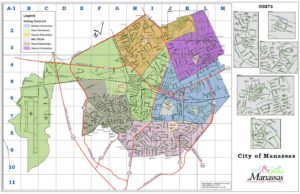 New City of Manassas Voting Precincts, Starting in 2017 (click to enlarge)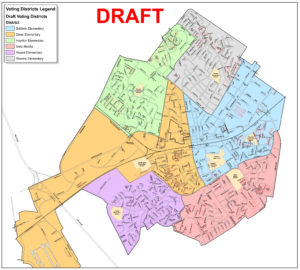 Earlier, more readable version of the new Manassas Precinct Map (click to enlarge)

In March 2017, the Manassas Registrar of Voters mailed a letter to every registered voter in the City Manassas that indicates their current polling place..
Also starting in 2017, voting in the City of Manassas will be on paper ballots that will be scanned and recorded on new optical scanning machines.   Manassas Park has used this voting method for several years.
Manassas Park has three precincts *:
Precinct 001: Manassas Park High School Gym
8200 Euclid Avenue
Precinct 002: Community Center in Costello Park
99 Adams Street
Precinct 003: Manassas Park City Hall
One Park Center Court
* Important note for Manassas Park residents: Since Manassas Park has introduced a third precinct in 2015, many Manassas Park residents must now vote at the new polling place at City Hall.   All registered voters in Manassas Park should have received an updated Voter Registration Card in the mail in 2015 from the Manassas Park Registrar, stating your current voting location. You can confirm your polling place here or contact the Manassas Park Registrar of Voters at registrars@manassasparkva.gov or 703-335-8806.
Bring a Photo ID
Virginia law requires all voters to provide an acceptable form of photo identification (photo ID) at the polls, such as a current Virginia Drivers License. View the list of acceptable forms of ID and bring your Photo ID with you on Election Day. Voters arriving to the polls without photo ID will be required to vote a provisional ballot and will typically have until noon on the Friday after the election to deliver a copy of identification to their locality's electoral board in order for their provisional ballot to be counted.
Virginia's photo ID requirements also apply to absentee voters who vote in-person in all elections.