Google
Join Our Committee!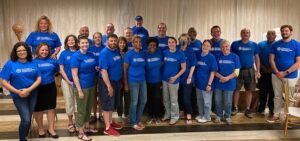 Do you believe in:
a healthy and sustainable environment
accessible women's healthcare
affordable healthcare for all
living wages and equal pay
quality educational opportunities for all
reducing gun violence
strengthening the middle class
free and fair elections with equitable voting opportunities
world-class infrastructure?
…then help Democrats get elected in Manassas and Manassas Park, as our representatives in the Virginia General Assembly and the U.S. Congress, and in all Virginia statewide elections by joining our Committee!
The Manassas & Manassas Park Cities Democratic Committee (MMPCDC) operates under the Democratic Party of Virginia State Party Plan.
Any local adult resident who supports the principles of the Democratic Party of Virginia is eligible to become either a Regular Member or an Associate Member of our committee. Dues are a modest $30/year and fund the community and voter outreach activities of our all-volunteer committee.
While Regular (voting) Members are expected to regularly attend our monthly committee meetings, there is no meeting attendance requirement for Associate Members.
Our Committee typically meets on the third Wednesday of every month, from 7:00-8:30 PM.  We currently meet at the "Social Soiree" event center, 8270 Shoppers Square, Manassas, VA 20111.  Due to holidays and other circumstances, the actual date, time, and/or location may change, so please check our
View our Organizational Chart.
Download our current Membership Application and statement of Members' Rights and Responsibilities (on the second page):
Read the Call for our committee's biennial reorganization on January 19, 2022
Pay your MMPCDC membership dues or make any other donation to our Committee via our secure Act Blue page.  Alternatively, dues payments or contributions may be submitted by personal check mailed to P.O. Box 4041, Manassas VA 20108, or paid in person by personal check or cash at one of our monthly meetings.
Our annual dues (currently $30) are based on the calendar year.   First-year dues for new members who join after the first quarter of a year may be discounted as follows: April-June; less 25%; July-September, less 50%; October-December, less 75%.
For more information or to express interest in joining our Committee, please contact us at [email protected] or 571-358-9893.
1,798 total views, 1 views today